Contents
Chairperson's Introduction
Meet the Team
Fundraising
The 2.6 Challenge
Lockdown Stories
Aicardi Syndrome
Disclaimer: Corpal is run by volunteers affected by Agenesis of the Corpus Callosum or Aicardi Syndrome. They are not medically trained and therefore advise you to seek medical advice from your GP or medical professional if you need medical advice.
Chairpersons Introduction
I hope you and your loved ones have kept well and safe over the last three months. It has been an extremely difficult time for all of us; and for some even more so. The COVID-19 pandemic has affected everybody, changed our interpretation of normality, shut our businesses, cancelled our medical appointments and created a lot of uncertainty, anxiety and chaos. COVID-related charitable organisations have sprung into action and have done a great deal of work to help as much as possible those severely affected. In addition, workers all over our country have carried on with their work commitments, offering their time and skills despite it not being "business as unusual". We ought to thank all of our nurses, doctors, rubbish collectors, grocery store employees, administrative personnel, emergency services and teachers all and around our country for carrying on despite the uncertainties and stress they too have had to face. These are the heroes that kept us all going.
Our Charity has continued to play its part. Despite the circumstances all around us, we have carried on with our commitments to you.
We had our (virtual) Annual General Meeting (AGM) in May and it was very rewarding to see our team expanding. I deeply thank the Corpal Committee for re-electing me as a Chairperson. I must mention that the team's continued hard work and initiative is to be congratulated. We welcomed a few new members such as Clare Boyle as Treasurer, Matthew Bunting as IT support and Lyndsay Bunting as Chief Fundraiser. I would urge you to visit our website and get to see and meet your new team, as well as reading about their backgrounds and drive for wanting to be part of Corpal.
We have expanded our team and now have an Aicardi Syndrome contact, lovely Keren Wyllie. Rachel Watson is proudly our adult ACC contact, an individual with ACC herself who has excelled and contributed so much within our charity already. Joanne Carty, a wonderful working mother of two, has taken on the role of Social Media Officer. Jean Dalton remains our greatly valued administrative and family contact. She has been part of Corpal for many years and is the person that everybody knows.
Although all the main fundraising activities, which were initially planned, had to be sadly cancelled because of the pandemic, Corpal was quick to fill in the gap! Our team and members have enthusiastically taken on the 2.6 Challenge and the results are phenomenal! Let me mention them by name! Jacqui and Isla Latham, Joanne and Verity Carty, Keren and Nina Wyllie and Jean Dalton. A huge thank you to all of you and all your supporters! We also had generous donations from various supporters including Mr & Mrs Deevy, Mr Bobby Psaradellis and Miss Jackson.
Our team has been working very hard over the last several weeks and months to get things ready in preparation for the International Awareness Day on the Disorders of the Corpus Callosum (DCC), 2nd July.
We have prepared a video, a personal note from all of us which we will publicly share as a way of not only getting our Charity known but also raising the profile of DCC and what it could mean.
Secondly, we have reached out to main Foetal Medicine Units (FMUs) in London and Scotland and have agreed to send them specified posters and leaflets to share and display. We will expand our network in order to reach and include more FMUs around the country. This is a great achievement! Our aim and hope is that future families will be consulted differently and Corpal's resources will be acknowledged and valued. Our Charity is finally making its mark within part of the medical world and this is no small step.
Furthermore, we are soon to publish and circulate the first ever fully informative booklet on the disorders of the corpus callosum. This has been written by our research psychologist Dr Rhonda Booth. It is a unique and huge accomplishment! Such a resource will be immensely valuable to many (families and health care professionals equally) and very pleased to say Corpal will also circulate it amongst the various FMUs mentioned above. A massive thank you to Rhonda for all her hard work!
Last but not least, I had the opportunity to speak on the phone with several mums of school-age children. It is becoming very clear how much a School online Resource tool is needed as a way of better supporting schools and teachers and this will now be one of our main priorities on our agenda for the remainder of this year as well as 2021. We have committed ourselves in investing in this and we will deliver.
Thank you again for all your ongoing commitment and support and looking forward to even more successful and productive months ahead within Corpal.
Disclaimer: Corpal is run by volunteers affected by Agenesis of the Corpus Callosum or Aicardi Syndrome. They arenot medically trained and therefore advise you to seek medical advice from your GP or medical professional if youneed medical advice.
Disclaimer: Corpal is run by volunteers affected by Agenesis of the Corpus Callosum or Aicardi Syndrome. They are not medically trained and therefore advise you to seek medical advice from your GP or medical professional if you need medical advice.
Sadly, as you will all be aware, all main fundraising events have been cancelled this year due to the Covid 19 pandemic. This includes the Prudential cycle 100 where member Jack Sewell and his Uncle, Mark Harvey, were due to take part. Also, the Prudential cycle 46 where member Joe Swain and Ashley Sewell (brother to Jack) were due to participate. Both events were to be held on 16th August.
We want to thank Jack, Mark, Joe and Ashley for wanting to represent Corpal in these events. We sincerely hope that we are successful in next year's ballot so we can offer these places again to them!
We will not know what is planned for 2021 events until we are given further information. We are still awaiting news on the Virgin Marathon, and whether or not it will go ahead in October.
Again, a very special thank you to Joe Swain, Ashley Sewell, Jack Sewell and Mark Harvey.
Joe Swain and Family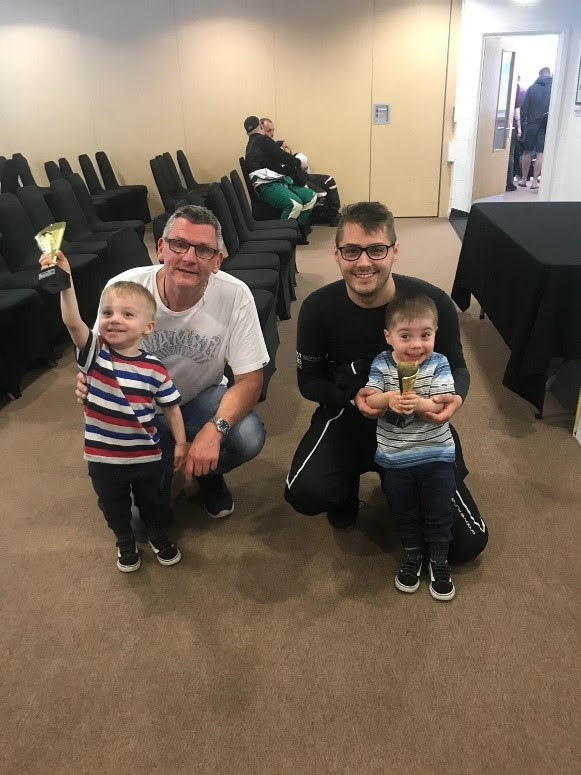 Jack and Mark
Disclaimer: Corpal is run by volunteers affected by Agenesis of the Corpus Callosum or Aicardi Syndrome. They are not medically trained and therefore advise you to seek medical advice from your GP or medical professional if you need medical advice.
Isla raised £642 by taking part in a variety of activities that were personally challenging. Isla's mum shares some of her story with us: "Isla is now 9 years old and was diagnosed with P-ACC during pregnancy. It was picked up in my scans. We went through a lot of testing when she was younger, including all sorts of genetics and photographs. However, nothing extra was ever diagnosed. She did have problems feeding as a baby but by the time we saw a dietician she was eating Petit Filous and putting on weight. Isla had involvement from SALT, OT, physio and a paediatrician when she was little. She had lots of issues building core strength so sitting, crawling and standing were all difficult. Isla was also diagnosed with hyper mobility. Peddling a bike is very hard for her as she lacks the strength to turn pedals, core strength to balance and the coordination to push pedals and steer"
A huge well done to Isla, What an amazing accomplishment! And a big thank you to everyone who supported her.
Nina has so far raised £1,573 in honour of her little sister, Runa, who has Aicardi syndrome. Her mum tells us a little bit about Nina here: "Nina has been doing 26 activities over 26 days. Her challenges will end on the 2nd of July to coincide with Disorders of the Corpus Callosum awareness day. Nina has been the most amazing big sister and completely embraces all of the challenges that having a sibling with profound disabilities brings up. She has a good understanding of Runa's needs and is completely accepting that she cannot do the same things as other 2 year old's. Nina loves Runa for who she is. She always finds ways to play with her- reading her books, knocking down towers and doing anything to make her smile. Me and her dad are so immensely proud of the inclusive and caring young woman we are raising. We are equally proud of Runa who is strong, resilient and surprises us every day."
A huge well done to Nina and a big thank you to everyone who has supported her!
Jean is cycling 26k to raise funds for corpal. She tells us about her desire to take part here: "To see so many cancellations/postponements of vital fundraising events, I decided to get on a cycle saddle again. Since 2012 I have not ridden a bike, however to work with the 2.6 challenge, I thought riding 26k in 2.6hrs on 2nd July (to coincide with Acc awareness day) is the least I can do to help raise some funds… at 62 years I started to train and quickly realised (or remembered) the pain I went through in the last challenge I did 8 years ago! Now I am suddenly begging friends for proper cycling shorts with padding, oh my goodness, need to think about what my plans are before committing! Anyhow, I AM committed and really want to help Corpal. Corpal has been close to my heart since my daughter was diagnosed in 1996. If it was not for Corpal I would be lost, their support and information was amazing. I am really so proud of our younger members and supporters who are already taking part in Challenges for Corpal and no way can I beat them. However, at the other end of the age group, I am going to try my best; maybe at a slightly slower pace! My daughter with dysgenesis of the corpus Callosum, interhemispheric cysts, and previous epilepsy, has now given me two wonderful grandchildren and has a lovely partner. Corpal is there to support you, and without the kind generosity of fundraisers Corpal would not be there."
Thank you for taking part in this Challenge, Jean! We're all cheering you on!
So far Verity has raised £353 reading one book a day for 26 days which is fabulous! Verity's mum shares her story with us:
"Verity was born with complete ACC along with other medical conditions that affects her in many ways and causes some learning difficulties.
Corpal have been a tremendous support to us over the years right from the early days even to her teenage years now.
This challenge is not as easy as it seems as Verity dislikes reading, other hobbies have taken over lately such as writing, playing the keyboard and of course the use of devices!
What better way to get her reading than a challenge like this; knowing that she is raising money for Corpal is a great incentive to keep on reading even when she gets tired.
We are hoping this will give Verity a love of books she once had when she was younger, and she is showing positive signs that this is happening planning which book she will read the next day!
It is great to be helping to raise funds for Corpal as many of their vital fundraising events are cancelled due to the pandemic, perhaps Verity's story and those of others may inspire you and your loved ones to join us in the 2.6 challenge."
Amazing work, Verity! You should be proud of yourself for taking on this challenge!
Disclaimer: Corpal is run by volunteers affected by Agenesis of the Corpus Callosum or Aicardi Syndrome. They are not medically trained and therefore advise you to seek medical advice from your GP or medical professional if you need medical advice.
Ruby on her bike
Ruby, who has complete ACC, a Dandy Walker variant and a cerebral visual impairment achieved something amazing during lockdown; She has learned to ride her bike! Her mother, Lisa, shares the excitement with us; "(This is) Something I really thought she would never achieve but finally at 10 years old she's done It! Had to share with others who actually understand the sense of pride but also just how hard it is to achieve things we just take for granted"
Well done Ruby, what an incredible achievement!
Andrea, whose Daughter Holly has Aicardi Syndrome, Shared her lockdown experience with us;
"Lock down has been a challenge for many and in so many different ways. Someone said 'we are all in the same boat going through this' but I would have to disagree and agree with the response to this comment, 'we are NOT all in the SAME boat, but all in our own little boats going across the same rough sea'.
All our children are different and have their own challenges, which as parents we deal with as best we can. It's not always easy but I believe we are doing all we can to try and keep some routine, keep life happy and fun.
My Holly has changed so much since lock down. She has gone from being a girl who has a go, to not wanting to do much at all. She has become very clingy to me and even less social, and gets so frustrated sometimes that she bites herself and hits her own face. It is so heart breaking. But all that said at the age of 8 she has managed to make her first jump (all of an inch off the floor) with both feet leaving the floor. It's those moments that I think we need to focus on to see us across this rough sea. Love to all."
Thank you Andrea for your story, even during this difficult time Holly has achieved something really wonderful!
Holly and her Lion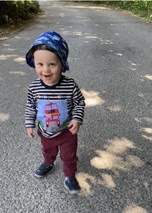 Thomas showing off his walking!
During lockdown, Thomas (who is 23 months) has started to walk! His mother Rachel shares the excitement with us:
"Thomas has Partial agenesis of the corpus collosum and periventricular nodular hetrotopia. We started working with his physio when he was 5 months old and her aim was to get him crawling, she wasn't sure he would be able to stand and walk independently.
At the start of March Thomas had just started to be able to walk independently. He could walk up and down our hall way at home. I'm not sure I can explain how exciting it was and our amazing physio shared the same excitement. Unfortunately, mid-March he fell at nursery and broke his leg. We were so gutted for him as he had just learnt this new skill. As you can imagine 5 weeks in plaster was quite a setback for him and when the plaster came off it was like he had forgotten how to stand and walk. We were back to square one. I was so upset for him. With lockdown in full flow and all of us at home it has meant we have been able to really focus on building his strength and coordination back up. He is now confidently waking everywhere and picking up quite a speed. He is less confident outside but I'm sure that will come in time. I guess in that sense lockdown has been quite a good thing for us. We are just so immensely proud of Thomas, and he has come so far. From being unsure he would ever walk to having learnt to walk twice! My little superstar!"
What amazing resilence! We can understand why you are so proud.
Happy 17th Birthday to Rhys! His mum shares his story with us;
"Rhys was diagnosed at 36 weeks pregnant with ventriculomegaly. A CT scan on his birth day confirmed Agenesis Corpus Callosum. There was no scan to detect ACC back then during pregnancy and no crystal ball to tell us how life would unfold for our beautiful boy. Rhys has fought every battle and survived, especially the worst one at 9 months old when diagnosed with epilepsy and sleep apnoea. We spent weeks in hospital and were told to prepare for the worst. We have watched our brave boy go in and out of hospital all of his life with reflux, grommets operations, severe drooling and removal of saliva glands, undescended testes, uncontrolled epilepsy, an elongated heart valve and scoliosis to name but a few! But now for the positive: Rhys is an inspiration and a fighter. He is a funny, loving, caring boy (or should I say young man). He lifts our spirits and everyone's around him. We will always have Rhys in our care at home and as long as his family and dogs- oh, and chocolate- are surrounding him he is one happy teenager. Well… give or take a few hormones issues!"
Thank you for sharing with us, it's lovely to hear about such an inspiring young man!
Rhys walking the dogs
Disclaimer: Corpal is run by volunteers affected by Agenesis of the Corpus Callosum or Aicardi Syndrome. They are not medically trained and therefore advise you to seek medical advice from your GP or medical professional if you need medical advice.
Corpal have been working hard to bring more focus on Aicardi syndrome. In recent months we have started a designated Aicardi Syndrome phoneline. It is manned by our Aicardi syndrome family contact Keren Wyllie. It is our hope that newly diagnosed families will have a point of contact to speak to during the difficult time of diagnosis and to be sign posted to relevant information and support.
Keren has also set up an Aicardi syndrome Facebook page on behalf of Corpal where she is keen to share relevant information, stories and helpful links. We'd love you to give it a "like" and share it with your friends and family to help raise awareness of this very rare condition.
Would you like to join the team?
If your child has an Aicardi syndrome and you have ideas of how Corpal could better represent Aicardi families we would love to hear from you! Ideas are always welcome, and it would be wonderful to have another Aicardi Syndrome trustee join our team- if you are interested, please get in touch!
Disclaimer: Corpal is run by volunteers affected by Agenesis of the Corpus Callosum or Aicardi Syndrome. They are not medically trained and therefore advise you to seek medical advice from your GP or medical professional if you need medical advice.
For information about Agenesis of the Corpus Callosum and Aicardi Syndrome visit Corpal's website: www.corpal.org.uk
Support groups are available on Facebook. For more information you can contact us:
0742 742 9388 Mon—Fri 9.30 am—5.30 pm